Most kinds of dumpster service comes with a flat fee. However, that does not mean you won't incur extra charges with your dumpster rental. Here is a look at how you can avoid the extra fees that could be added onto your dumpster rental.
Call for Pickup
As soon as you are done with your dumpster, call the rental company and request a pickup. There is generally an agreed-upon rental time in your contract. And for every additional day you have that dumpster, there is an additional fee which is usually billed per day. So if you plan to be finished with your dumpster on day six of a seven-day rental agreement, call the company for pickup on day six. Don't wait.
Know What to Put in a Dumpster
Dumpster services strictly prohibit certain items inside their dumpsters. Such items often include hazardous materials, tires, batteries, paints and more. If you are not sure, don't hesitate to ask. Companies will respond to the inclusion of any of those prohibited materials with an additional fee on top of what you are already paying.
Don't Go Over Weight
Overage fees are added to your bill when you exceed the maximum weight limit. This sneaks up on some people as weight can be a little bit deceiving. You may not fill up your dumpster completely, but heavy items could weigh it down a bit too much. Make sure to check your weight limit when agreeing on rental terms.
Order in Advance
Ordering your dumpster at the last-minute can not only force you to do a bit of scrambling, but it can also come with additional fees. Some dumpster rental companies will charge extra to customers who put in a rush order.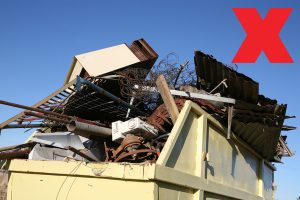 Stack Debris Below the Fill Line
Just because the dumpster may be 3.5 feet high, it does not mean you can stack debris six feet high. In some cases, dumpster rental companies will not haul containers that are overflowing with debris. To avoid any problems in this area, keep your debris just underneath the fill line.
Charlotte Dumpster Service provides all size dumpster rentals and also delivers right to your location. Excellent service and affordable rates have made Charlotte Dumpster Service the area's best in waste management removal. The next time you need a dumpster delivered to you, contact the very best Charlotte dumpster rental provider.