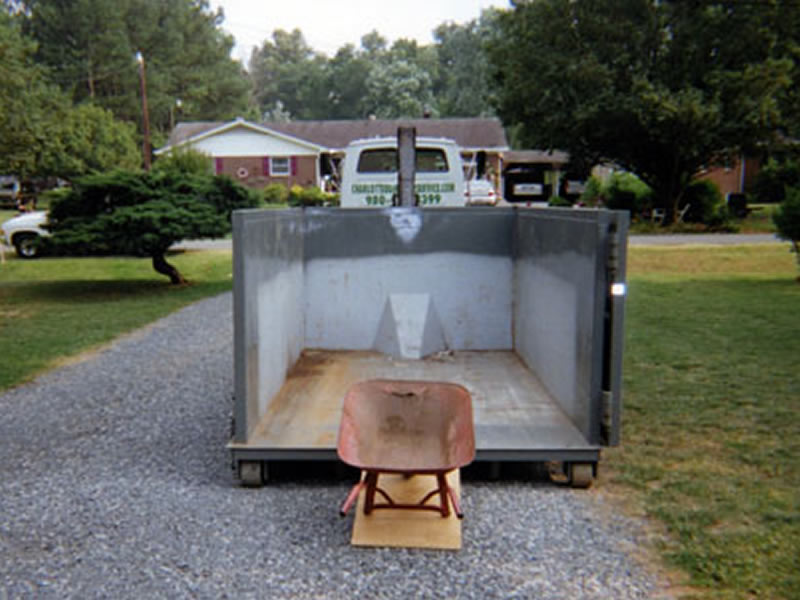 For contractors, homeowners and businesses, renting a dumpster is just the first part of the process. Then comes having to actually load the dumpster. When doing so, there are some helpful hints to keep in mind to ensure a safe and cost-efficient experience.
Break stuff down
Any kind of large item that could be broken down should be broken down. This will help maximize the amount of space within a dumpster. Instead of just tossing items into the container, take a moment to break down everything you can. It's always better to have a little extra space than not enough.
Organize your things
Gaps inside a dumpster could take up valuable space, which could cause you to run out of room. A helpful hint is to try and lay everything out flat. You can also put items of similar size together and stack them accordingly.
Maintain an even load
It is recommended that you begin loading from the bottom and work your way up. That means filling in the entire bottom area and not just loading one side. Making one side top heavy could cause an eventual collapse, which would force you to lose out on some valuable space.
Avoid overfilling
Once your debris starts to creep overtop the edge, it's time to call your dumpster rental company. Overfilling may result in extra fees and, in some cases, companies will not accept the dumpster. When this happens, there will be the need to find an alternative solution. But continuing to load stuff into an already-filled dumpster is not a feasible solution with any waste management dumpster rental.
Keep safety in mind
There may be the urge to get into the dumpster and compact your debris by jumping up and down on it. This is not advisable. There are safety hazards to consider. Also be sure to keep children away from the dumpster as it could seem like an intriguing new play toy for curious young minds.
Plan for odd-shaped items
When cleaning out a home, there could be the need to dispose of odd-shaped items such as couches and recliners. Plan ahead so that you can maximize your space. Eliminating gaps and making your stuff fit properly can reduce the cost of dumpster rental. Just don't toss those old couches inside.
Close dumpster door properly
This could be dangerous if not followed. If the door is not properly locked after the container is loaded, debris could spill out and cause a huge mess. Once your dumpster is loaded, double and triple check that the door is closed and locked securely.
Keep light objects on bottom
Things like cardboard and various types of sweepings should be on the bottom of a load underneath heavier items. Failing to do so could allow light debris to fly around and become a danger. Make sure lighter debris won't go anywhere by pinning it down with heavier items.
Dumpster rental in Charlotte can be made easy not only with helpful tips, but also with great prices and speedy service. That can all be yours at Charlotte Dumpster Service. Our team of professionals can help with your dumpster cost as well as everything you need to know for a productive experience.
Visit our site at http://charlottedumpsterservice.com