Once you have decided on dumpster rental as a viable option for your next project, there is a checklist that will make the entire process go much more smoothly. Be sure to go over each item on the following checklist as this will ensure a more affordable and productive experience.
Estimate Total Debris – An approximate estimate of the size of your total debris will tell you what size dumpster you should rent. Start off by doing this so you know exactly how big of a container you need.
Find a Flat Rate – Getting a flat rate will prevent you from incurring additional fees you may not have expected. Everything in a flat rate is laid out right before you in black and white.
Check With Your Neighbors – Placing a dumpster at an inconvenient place could cause problems with your neighbors or certain HOA's (Homeowner's Association). It's a good idea to give a courtesy call to make sure everything is okay. Some communities may not even allow dumpster rental or require a permit.
Select Drop-Off Spot – The surface where your dumpster will be dropped off should be level and hard. It should also be accessible to your project area and fit the appropriate dumpster size.
Check The Weather – It is never pretty when a sudden rainstorm or snowfall falls down on your debris. Check the weather and if rain or snow is in the forecast, invest in a tarp to cover your container.
Sign on the Dotted Line – When renting all dumpster sizes, it's a very good idea to itemize every part of your contract in writing. A failure to do so could result in hidden fees. Also, make sure you know what is not permitted to be placed inside the dumpster.
Fill Only To The Top – When loading a roll-off dumpster, debris should not be piled up past the top of the container. When this occurs, additional fees are usually assessed.
Schedule a Pickup Date – Figure out how long your project will take and arrange a time when the dumpster rental company can come haul away the container.
Same Day Delivery – When you need to complete a job right away, the more reputable dumpster rental companies can accommodate your immediate needs. Check and see if this option is available.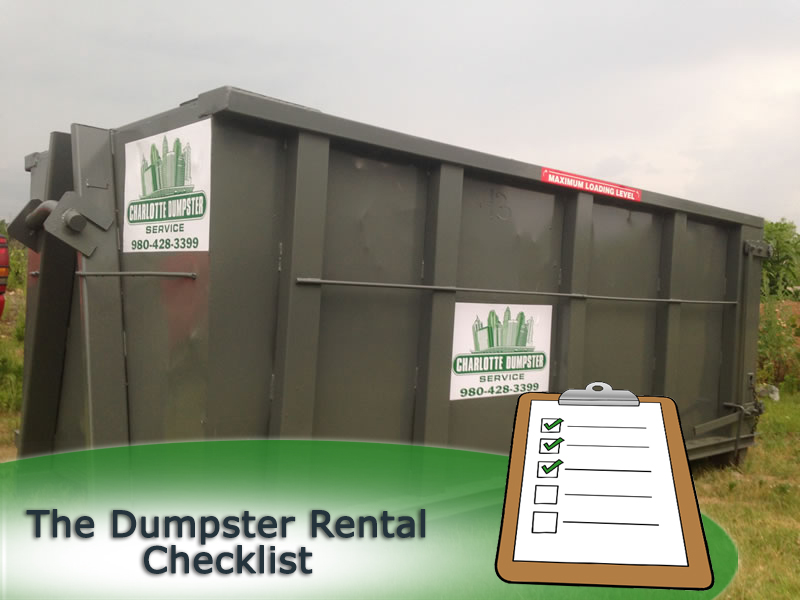 Charlotte Dumpster Service can check off everything you need when it comes time for your next Charlotte dumpster rental. Employing a team of experienced professionals, Charlotte Dumpster Service won't waste any of your time when it comes to your waste management situation.